St. Louis Bathroom Remodeling: Achieve Your Dream Bathroom with An Architect
Dreaming of soaking in bubbles in a copper tub after a long work day. Or imagining the ultimate shower with a bench and real rain shower head washing your worries away in your master bathroom? Whatever your dream bath entails, ultimately an architect should be utilized to guide your vision and make your bath oasis a reality.
What about cost of hiring an architect? Do you hire a freelance architect, an architectural firm? With Mosby Building Arts, our in-house architects and design teams are trained not only to produce the design concepts and 3D drawings but also are an integral part of the bathroom remodeling process.
Why to Avoid Architect Firms for Your Bathroom
Why to Choose an Architect with a Design Build Firm
Our Goal is to Build Your Dream Bathroom not just Draw It
No Need to Outsource for an Interior Designer, Our Designers Work with Our Architects to Guide You Through the Selection Process
With the Remodeling Process, Our Architects and Designers are There at Every Step
Your Vision Comes to Life
Architects can create big picture but also add fine details to your dream bathroom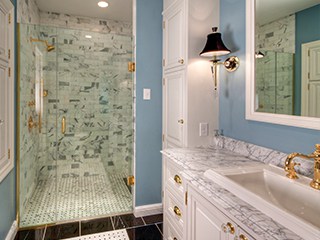 We Build Your Dream Bathroom
Combined with our architects' vision & our scope of work, we build it right
Your Bath, Your Way
Our Architects use 3D and 360° virtual visualization design technology to bring your bathroom to life
Start your bathroom remodeling project with Mosby's certified designers and architects
Be it a hall bathroom, a master bathroom or an accessible bathroom, our architects and designers will make sure it looks the way you desire and performs above and beyond your expectations. As a design-build firm, our architects will handle conceptual design options, construction drawings, and product/finish selections, as well as finalize drawings and commence with permitting for construction. 
Let Mosby help you create your bathroom oasis today!
From floating vanities and soaking tubs to bamboo flooring and stone tiles, create the perfect bathroom with Mosby Building Arts. Team with our talented architects, designers and craftspeople to create a beautiful and safe bathroom with long-lasting value.