Kitchen Remodeling St. Louis: Create Your Dream Kitchen with An Architect
Achieve a higher level of craftsmanship when choosing Mosby Building Arts for your kitchen remodel
Your kitchen feels cramped with your kid's homework and papers overflowing on your small island and cluttered counter tops. As your family tries to maneuver through it like an obstacle course, you realize your family has outgrown the functionality of your kitchen, plus it may be outdated in appliances and style. Maybe it's time to design your dream kitchen that will liven up the space and create the enjoyable atmosphere your family craves.
Why an architect is essential with your kitchen remodel
As you dream of french doors, a butler's pantry and a kitchen island, all major remodeling projects can benefit from the expert design help of an experienced, licensed architect. With size or complexity of the remodeling, these two factors are why an architect is essential to the remodel process, and to ensure your dream comes true. Beyond expense, there are many factors involved when considering an architect. Do you hire a freelance architect? An architectural firm? With Mosby Building Arts, our in-house architects and design team are with you from concept to completion of your remodel.
Why to Avoid an Architect Firm for Your Kitchen Remodel
Why an Architect with a Design and Build Firm is the Right Choice
Our Goal is to Build Your Dream Kitchen not just Draw It
No Need to Outsource for an Interior Designer, Our Designers Work with Our Architects Through the Selection Process
With the Remodeling Process, Our Architects and Designers Are There at Every Step
Achieve Your New Kitchen With Our Architects
If you are worried about additional expense with hiring an architect firm, Mosby Building Arts helps you avoid this with in-house certified architects and design consultants for your new kitchen. With a design and build firm, your kitchen remodel is streamlined, seamless and stress-less. From start to finish, our trained architects and design experts are an integral part of the kitchen remodel process. As a design-build firm, our architects will handle conceptual design options, construction drawings, and product/finish selections as well as finalize drawings and commence with permitting for construction.
Visionary Approach to Design
Unlike basic builders, architects and certified designers take a holistic approach to your kitchen remodel project.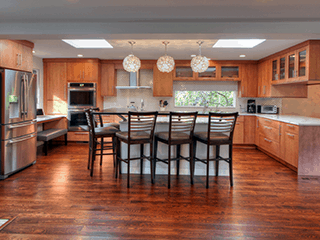 The Interplay of Design & Space
Architects are essential for your kitchen remodel because they ensure it is built to code and achieve all the design and functional needs.
360 Design Approach
Our architects and design team will guide you through the kitchen remodeling process. Learn more about our 3D and 360° virtual visualization design technology.
Build Your Kitchen Right the First Time
Mosby's skilled craftsmen will build your new kitchen right the first time with every detail planned by the architects and designers. From cabinets and counter tops to sinks and appliances, to kitchen islands and breakfast nooks, we can help you from start to finish. For over 70 years of St. Louis, Missouri, Mosby is the right choice for kitchen design and remodeling.