Helping You Make Educated Decisions with Your Home Remodeling Project
Are you planning to remodel or add an addition to your home? Before you begin your remodeling process, the question arises of whether to hire an architect or a design and build firm? What is the difference? Do I need to hire an architect? From the radio airwaves to your first appointment, Rich Oris wants to help homeowners be educated and equipped with their remodel project.
Rich started at Mosby in 2001 as a project manager, and is currently a Senior Home Consultant. On air with 97.1 FM since 2015, his deep knowledge of every phase of home improvement – from conception to design to construction – gives you the insights and answers you need.
Rich Will Get It Right The First Time With Your Remodel:
Planning with you all the design elements, including functionality, health, safety and security
Preventing design flaws prior to building
Explaining construction possibilities upfront and potential cost overruns
Avoiding possible mistakes by establishing priorities for your project
Advising you on the correct products for the type project
Helping you get the outcome you want with the best practices available
Guiding you through every stage of the design and build process
Guiding You Through the Design Build Process of Your Project
For room additions, whole-house renovations, new kitchens, master bathroom remodels, and other major home improvement projects, Rich Oris will guide you through the design build process of your remodel. With a team behind your project, he will work closely with the architects, designers and drafter on the design element of your projects as well as utilize his construction knowledge during the planning and building phases.
Explaining the building practices available and answering all your questions prior to starting the project.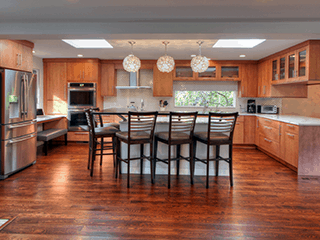 Guiding you through the remodel process and explaining constructions possibilities upfront.
Helping you make the right decisions for your project to bring lasting value to your home.
Setting Exceptional Expectations
From the radio airwaves to your first appointment, Rich Oris is your guide for all your remodeling questions and needs. Tune into to Right At Home with Rich every Saturday from noon – 1pm as he examines home design and remodeling topics and answers listener questions.