There comes a point in preparing for a bathroom remodel where a decision must be made: is a bath tub necessary?
You Can Shower in a Tub But, You Can't Bathe in a Shower
The classic tub/shower combination remains a standard because of the flexibility of dual use. The increasing popularity of handheld shower heads also keeps the tub a desirable option. But with a rapidly aging population and increased awareness of universal design, stepping over a tub to use the shower creates accessibility concerns.
When is the Last Time You Took a Bath?
For someone who rarely takes a soak, a tub uses up valuable space where a walk-in shower with bench could be. And a 2014 Houzz poll indicates bathing may be a generational experience, with 39% of 25-34 year olds willing to skip a tub anywhere in the house. Homeowners do have valid re-sale value concerns if all tubs are removed.
Bathtub Guidelines
• If you have multiple bathrooms, keep a tub in one of them.
• If you have toddlers, small children or dogs to bathe a tub is necessary.
• If soaking in a tub is your surefire way to relax, a tub is a must.
The therapeutic aspect of soaking in a tub lends itself to privacy. This is why a stand-alone soaking tub in addition to a walk-in shower is quickly becoming a master bathroom standard, when space permits. And modern stand-alone tubs take up far less room than the 1990s tub jets with large decking.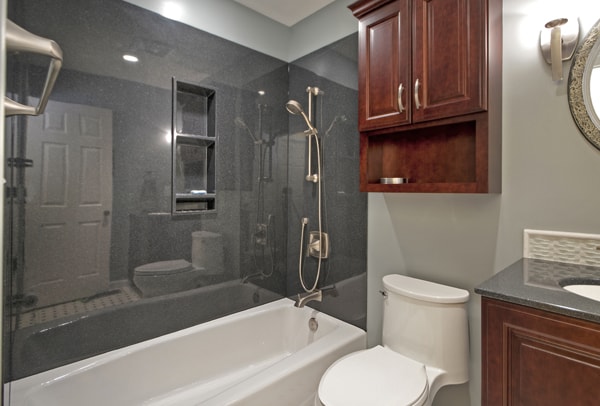 The re-sale value of a tub-less house is tricky to gauge because half of prospective buyers want one, the other half don't care. For instance, when the house is listed for sale, those who require a tub will see it missing from the listing and won't bother to see the house. Also realize that seldom does one buy the perfect pre-existing home; modifications usually happen, especially in bathrooms which (along with kitchens) are the most frequently remodeled parts of the home.
To have or not have a tub is a very personal decision. Don't let future unknown buyers or predictions of future trends keep you from having what you want and need right now. And this is where the help of a bathroom designer can be the key to helping make the right decision.
For St. Louis bathroom remodels, the Mosby Building Arts designers will discuss your lifestyle wants and needs right now and in the future. Together, you will find your perfect answer to the great bathtub debate. See a gallery of Mosby barroom remodels. To get started, call the Mosby office at 314.909.1800 or contact them here.
Why Work with Mosby Building Arts?
If efficiency, knowledge and quality craftsmanship are of the utmost importance, then Mosby is the partner for you. We are a design build firm that handles every aspect of your remodeling project from beginning to end. All team members needed to complete your project (designers, architects and production crews) are under one roof to provide time and monetary efficiencies, quality control, and seamless communication throughout.
Home Remodeling Peace of Mind
There's no need to deal with multiple companies, or the frustration of the left hand unaware of what the right hand is doing. Mosby takes the guesswork out of home remodeling by planning the work and working the plan. You will know the scope of work and price before the first hammer swings. And the work will be done with a commitment to excellence and your happiness. All of Mosby's remodeling work is backed by our 10-year workmanship warranty.
You can trust you're in good hands with Mosby:
10-Year Workmanship Warranty
70+ Years Experience