As the world becomes more and more tech savvy so do the people and places around it. This shines true in the world of remodeling as new techie accessories and gadgets are becoming popular in homes
Here is a list of some great products to make your bathroom a little smarter and your life a little easier and enjoyable.
The Moxie Showerhead & Speaker From Kohler
If you love listening to music while getting ready in the morning, the Moxie shower head is a music lover's dream. This shower head allows you to stream music right in your shower head. Another cool feature is its portability. The shower speaker can be detached and taken anywhere with you so the music never has to stop. The speaker synchs through Bluetooth on any smart phone, or tablet, so you can listen to your playlist anytime.
Towel Warmers
Towel warmers have come a long way from just hanging a towel on a radiator. Towel warmers now come in all shapes and sizes. Often times, they are hardwired into the electric and can be turned off and on with a wall switch, or choose a plug-in free standing option. Who wouldn't love a towel warmer on a chilly winter morning?
Nightlight Toilet Seat
Don't trip or stub your foot trying to go to the bathroom in the middle of the night. This Kohler Nightlight Toilet Seat helps you see in the dark. It's great for kids and seniors. No need to flip a switch as the nightlight runs on 4 AA batteries for a 7 hour cycle and activates only at your preset times.
Touch-less Toilet
Cut down on germs in the bathroom with a touch-less toilet kit like this one from Kohler. The kit is an easy install and is battery powered. According to Kohler's website, it takes most people less than 20 minutes to install. It works in most canister and flapper toilets. All it takes is a wave of the hand to flush the toilet.
Smart Scales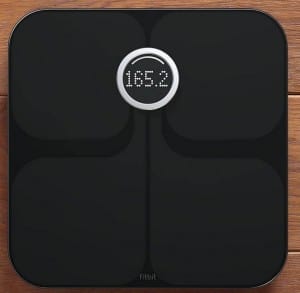 Fitbits are all the rage these days and it is a truly great tool to track your fitness, eating habits and weight loss. Another great product from Fitbit is their Aria Smart Scale. This isn't your old school mechanical scale. This smart scale tracks your Body Mass Index (BMI), your body fat percentage, weight loss progress with trends and charts; it also allows up to 8 users to set different goals which are stored privately between individuals.
Bathroom Automation
Home automation tools have been steadily trending in the world of remodeling. As technology advances at a rapid pace and integrates itself into multiple facets of everyday life, homeowners seek ways to make smart technology an extension of their home. An example of this is a gadget like the DTV Custom Showering Experience from Kohler which allows homeowners to fully control their shower with the press of a button. The DTV interface controls the flow and angle of water from the shower head, the temperature of the water and even what music you listen to, making showering a much more interactive experience.
For more information on how you can integrate smart technology into your bathroom. Call the bathroom experts at Right Bath at 314-909-1820 or contact us here.