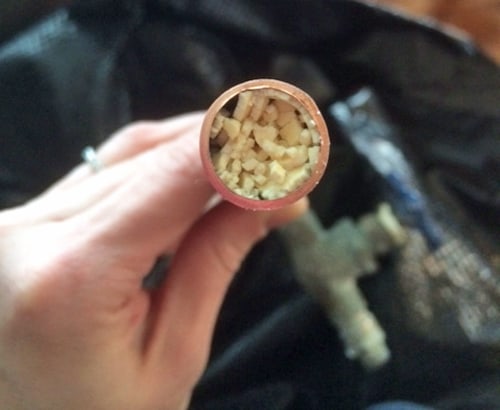 Question
We're in the middle of a kitchen remodel and when the sink water valves were cut off there were calcium pellets inside the hot water pipe, only (photo above). We always had issues with the hot water pressure being weaker than the cold, and it takes forever to get hot. Now we know why! But we have some questions for you, please.
Why is this only in the hot water pipe in the kitchen? Why didn't gravity take this block of calcium away? How bad is our water heater? And how do you prevent calcium build up?
Answer
Let's take each question in order. It's safe to assume your kitchen sink gets used more often than other sinks in the home, so more calcium migrates to that faucet.
As to why it's only the hot water pipe: Missouri has what's known as "hard water," it's heavy with lime and minerals. When the hot water running through the pipe cools, the minerals drop out of the water and deposit on the walls of the pipe.
Now, about that block of calcium pellets: We have seen hot water pipes in older homes that were choked down to less than half its original size because of calcium deposits. This is because calcium usually builds up in slow, gradual layers over the years, shrinking the diameter of the pipe. Your photo tells us there was probably some plumbing work done in the past that knocked that layer loose into particulate, and wedged itself in the pipe. Yours was an unusual situation.
The calcium pellets would have to go out the faucet, but the aerator on the end of the faucet keeps that from happening.
Calcium and Your Water Heater
Like a faucet, a water heater does experience calcium build up. If your water heater is fairly new, it's wise to begin regular flushing maintenance by draining 5 – 10 gallons of water from the heater once or twice a year. If it is an older heater that has rarely or never been flushed (or you don't know), don't touch it. When they have not been flushed regularly, messing with it now can cause leaks or blockage, much like you had in your kitchen sink.
How Do You Reduce Calcium Build Up?
A water softening system specifically geared toward reducing calcium in your water can help, but does not remove it completely and comes with maintenance issues and health debates.
Whenever plumbing work is done to kitchen or bathroom sink faucets you can flush out the pipes. Do this by removing the faucet aerator (as in the photo above) and running the water for a couple of minutes. Please don't do this to shower/tub valves, as it's a different, more delicate filter system.
The buildup of calcium is so slow that it takes decades for a problem to present itself. Unless there is a special circumstance like yours where the pipes were disturbed, occasionally flushing your pipes will most likely keep everything in good running order.
For answers to home improvement questions, visit the Mosby Home Improvement Library. And for remodeling and repair help in the Metro St. Louis area, call Mosby at 314.909.1800, or contact us here.
Why Work with Mosby Building Arts?
If efficiency, knowledge and quality craftsmanship are of the utmost importance, then Mosby is the partner for you. We are a design build firm that handles every aspect of your remodeling project from beginning to end. All team members needed to complete your project (designers, architects and production crews) are under one roof to provide time and monetary efficiencies, quality control, and seamless communication throughout.
Kitchen Remodeling
Mosby's skilled craftsmen build your new kitchen right the first time, taking care of every detail. From cabinets and countertops to sinks and appliances, to kitchen islands and breakfast nooks, we can help you from start to finish. For St. Louis, Missouri kitchen design and remodeling, Mosby is the right choice.
Learn more about kitchen remodeling here.
Home Remodeling Peace of Mind
There's no need to deal with multiple companies, or the frustration of the left hand unaware of what the right hand is doing. Mosby takes the guesswork out of home remodeling by planning the work and working the plan. You will know the scope of work and price before the first hammer swings. And the work will be done with a commitment to excellence and your happiness. All of Mosby's remodeling work is backed by our 10-year workmanship warranty.
You can trust you're in good hands with Mosby:
10-Year Workmanship Warranty
70+ Years Experience