A for Accessibility: Homeowner Praise for a Remodeling Project
A client in Belleville, IL submitted the following report to Angie's List. From his detailed description of the accessible remodeling to the photos he took and sent along with the report, we deeply appreciate this Straight A review. Here's what James wrote about his Mosby remodeling experience:
"Mosby remodeled a bathroom and kitchen to accommodate a power wheelchair. It was a very positive experience.
It started with Mr. Mosby spending 3 hours with us on two separate visits to understand our requirements and to design changes to the bathroom and kitchen for handicap access. They brought expert design capabilities to solve access problems. Remodel design included replacing a fiberglass shower with a 6" step (photo below) for a roll-in shower; a sink and vanity allowing for roll under; kitchen cabinets with a roll-under stove top and wall oven at convenient height. They even thought of 9″ kick space on base cabinets allowing for the wheel chair to get closer to cabinet tops.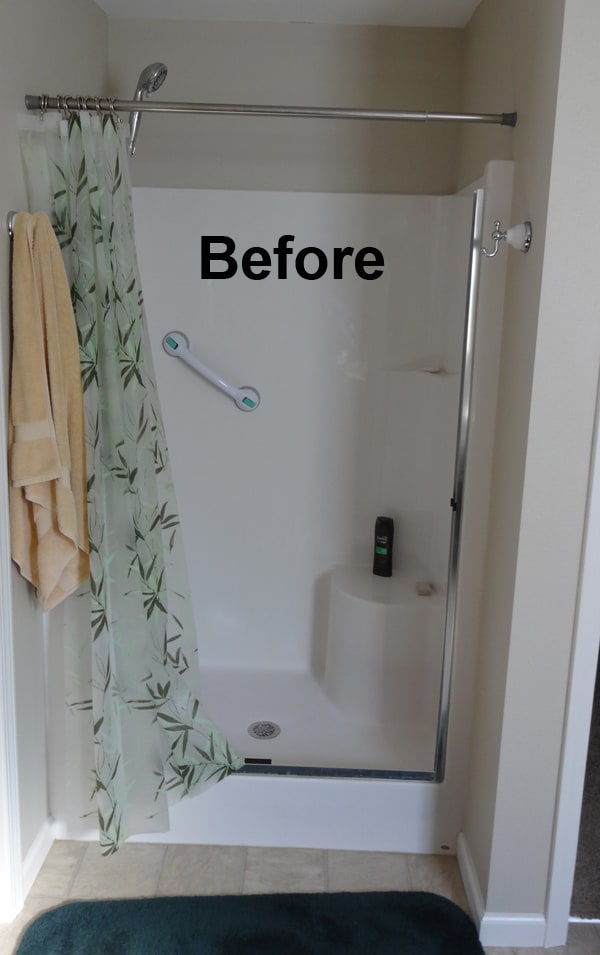 Before construction began, Project Manager, John Yocco, visited with a cabinet contractor to ensure measurements were correct and cabinet color and counter top color would match the current kitchen cabinets. We waited about a month for the cabinets, vanity, and shower components to be manufactured and delivered.
The Mosby Installation crew was exceptional. Mark Dees was our crew chief. They solved a variety of plumbing and electrical issues to complete an excellent installation. The shower walls and floor, and the one-piece sink and vanity top are all Onyx. This is an outstanding product in terms of appearance and performance. They ensured the bathroom cabinet installation was exactly level and sound. Vanity top was mounted flush to walls and expertly caulked. Mark worked extensively with the handicapped person to ensure grab bars, shower control, and shower head were all in the correct place to ease access and ensure safety. Super service in this area.
The kitchen base cabinet and appliance installation was also outstanding (photos below). The Mosby Team moved electrical outlets to accommodate the cooktop and wall oven. They installed custom-made cabinet for wall oven and base cabinets – again, absolutely level and soundly attached to walls. Wall oven installation was quite challenging because cabinet maker had not fully complied with previously provided specifications, so the Installation team modified the cabinet on-site so the cabinet didn't have to be rebuilt, which would have incurred weeks of delay.
In addition to remodeling the bath and kitchen, Mosby repaired a twisted stud in the corner of the bathroom. The sheetrock in this corner had warped and moved causing and unsightly wrinkle in the corner finish. The team removed about half a sheet of sheet rock over the tub and found the problem with the stud, which they corrected. They inserted a new piece of sheetrock and taped and mudded the repair. Finally they had a Mosby Painter come in and apply the correct wall finish to match the rest of the bathroom. After I painted the wall you cannot tell where the repair was made, and the corner appears square and straight, as it should.
The Mosby Team took special care to make sure the floors and furnishings were not damaged. Each day, they put drop cloths down from the doors to the work areas, and covered furnishings with plastic drops. At the end of each day's work, the team cleaned up all dirt, dust, scraps and tools in the work area. They removed drops and then even vacuumed the rugs and floors. Anytime they worked on hardwood floors they put down large sheets of cardboard to protect the wood. They took out the existing vanity, top, and shower and disposed of them. They removed all scraps, packaging, and trash.
Every Mosby employee we met was professional, knowledgeable, and personable. They went out of their way to be pleasant, even befriending our dog. They never hesitated to ask questions about how we would like things done and ensured we concurred with all installation decisions, such as the height of the shower curtain bar and exact placement of cook top. Mosby's quality management process included regular contact with a customer service quality representative, Tracy Bax. She was professional and encouraged our input about Mosby's work.
We have worked with other building and remodeling contractors in the past and had much less positive experiences. Mosby provided top quality products and work with minimum hassle to the customer. They showed up for work when they said they would, completed the job professionally. The project was on time, on quality, and on budget."
Thank you to James for such a kind review. If you'd like to age gracefully in the home you love, learn more about our accessible design services. To get started, call the Mosby office at 314.909.1800 or contact us here.